Audrey, a young French actress trying to make it in Hollywood, meets Tony, the chauffeur of a luxury car. She needs him to drive her around town and he is looking for a "boss" to drive him. At first, feeling ill at ease, Audrey doesn't want to mistreat him. But as she suffers one humiliation after another in her career, she discovers that this little game allows her to vent her frustration on him… They complete each other in what begins as a fair exchange and becomes much more than that.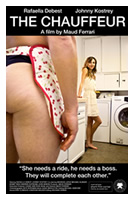 16/9, stereo, color, 23'

Rafaella Biscayn-Debest
Johnny Kostrey.
Madison Larue Juliette
Michael Klinger Alex
Bobby Reed Robert
Andrew Dufresne
Casting director
John Senese
Casting assistant
Film career:
- Selected at the Short Film Corner, Cannes 2012.
- Award of Excellence in the Best Shorts Competition, La Jolla, USA (July 2012).
- Award of Best Actor in a Short Film at the 5th International Fetish Film Festival of Kiel, Germany, where the film made the opening (Sept. 2012).
- Distributed by Shorts International.